(Português do Brasil) Lençóis Maranhenses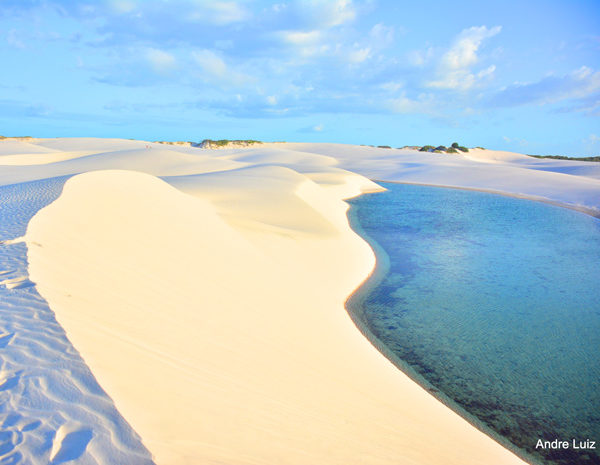 Lençóis Maranhenses National Park and its unique formation of dunes and lagoons with colorful waters are located in the city of Barreirinhas. In this municipality, visitors find good restaurants with varied menus that always seek to present the local cuisine. The walk along the Preguiças River is a spectacle on its own, with its curves that pass through dunes and serve as a refuge for migratory birds. The lowland of Maranhão encompasses the mouth of the Mearim River, the Crab Island and a series of lakes and ponds.
The package includes:
City of Origin: Departure from the city of origin to the destination.
São Luís/ Barreirinhas: Arrival in São Luís and departure to Barreirinhas.
Barreirinhas: Departure on a regular speedboat along the Preguiças River with small stops for walking on the dunes on the banks of the river towards Vassouras, APA dos Pequenos Lençóis and Mandacaru. In this place there is a climb to the Lighthouse for a wide view of the landscape. We visit Caburé and then return to Barreirinhas.
Barreirinhas/ São Luís: Boarding with return to São Luís.
Accommodation with breakfast: 01 night in Barreirinhas.
Note 1: All Clip Ecoturismo e Aventura private itineraries are customizable. Delete, replace or add hotels, tours and transfers at your convenience. It is worth mentioning that the package does not include drinks and extras.
Note 2: When necessary, the routes will be made in 4×4. Otherwise, they will be carried out in vans or doblô-type cars.
Note 3: Travel insurance is included.
Visited state: Maranhão.
Outputs: Every day.
Guide: Leisure and Adventure Tourism
Important: We inform you that the tours to Grandes Lençóis require a greater effort due to the ascents and descents of the dunes. It is not recommended for pregnant women, infants, people with special needs and elderly people with limited mobility and/or hypertension or back problems.
Air Transport: Not included (if necessary, ask for rates to include the service in your package).
Solicite seu Orçamento/Make your queries passages: