Pedra da Carnaúba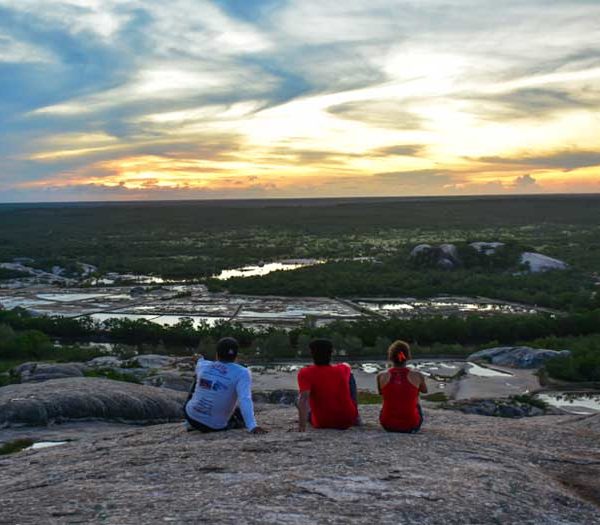 Schedules: To match
Duration: 3 hours
Outputs: Every day.
We will leave the city of Parnaíba towards the city of Chaval in a journey that lasts around 45 minutes. Pedra da Carnaúba is one of the highest monoliths in Chaval and is approximately 104 meters high. It is the most beautiful among the monoliths because there is a crater formed on top of it millions of years ago. There are carnauba trees inside the stone and, in the middle of them, a beautiful lake is formed. Thus, in the winter period, the landscape seen from above provides a 360º angle of the entire city.
In recent scientific studies on the formation of the Chaval stones it was found that the Chaval monoliths formed long before the age of the dinosaurs, in the Archaeozoic Era, a period from 3.8 billion to 2.5 billion years ago. The thousands of active volcanoes and the land hit by meteors constantly led to the formation of the Chaval rocks, which are purely magmatic. Pedra da Carnaúba is a place suitable for abseiling, climbing, luau, camping and one of the ten best places to see the sunset in the world.
General conditions:
All Clip Ecoturismo e Aventura private itineraries are customizable. Delete, replace or add hotels, tours and transfers at your convenience. It is worth mentioning that the package does not include drinks and extras.
Solicite seu Orçamento/Make your queries passages: