(Português do Brasil) Trekking (trekking Lençóis Maranhenses)
Trekking (trekking Lençóis Maranhenses)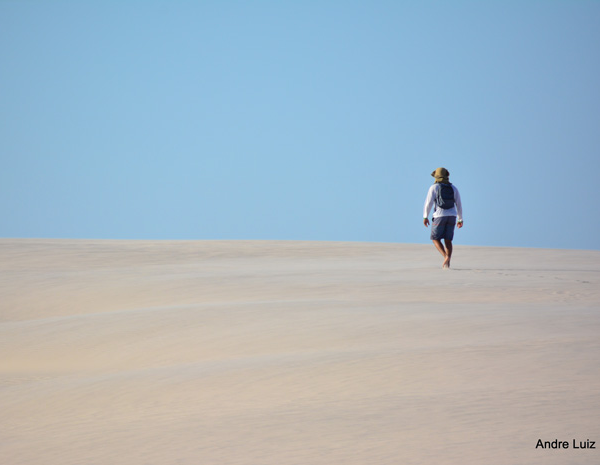 The package includes:
City of origin: Departure from the city of origin to São Luís.
São Luís: Arrival in São Luís and transfer from the airport to the hotel.
São Luís / Barreirinhas / Atins: Departure from São Luís to Barreirinhas and stop in the city of Morros. Then, embark on a speedboat bound for Atins and descent along the Preguiças River. There is a stop in Vassouras, Caburé and Mandacaru and, after lunch, a boat trip to the village of Atins.
Atins/ Baixa Grande: Board a 4×4 vehicle to the mouth of the Rio Negro and walk through the dunes until you reach Baixa Grande, one of the oases of Lençóis Maranhenses National Park. At the end of the day we will be able to watch the sunset. Free night.
Baixa Grande / Queimada dos Britos: Walk to Queimada dos Britos, another oasis in Lençóis National Park, which was the scene of national and international reports as well as the setting for the movie Casa de Areia.
Queimada dos Britos / Betânia / Santo Amaro: Walk to Bethany. In Betânia there will be a 4×4 vehicle for transfer to Santo Amaro. Visit to Lagoa da Gaivota. Free night in Santo Amaro.
Santo Amaro / São Luís: Departure in a 4×4 vehicle towards Povoado Sangue. Boarding with return to São Luís. Free night.
São Luís/ City of origin: Return to the city of origin.
Accommodation with breakfast: 01 night in São Luís, 01 night in Atins, 01 night in Baixa Grande, 01 night in Queimada dos Britos and 01 night in Santo Amaro.
Note 1: All Clip Ecoturismo e Aventura private itineraries are customizable. Delete, replace or add hotels, tours and transfers at your convenience. It is worth mentioning that the package does not include drinks and extras.
Note 2: When necessary, the routes will be made in 4×4. Otherwise, they will be carried out in vans or doblô-type cars.
Note 3: Travel insurance is included.
Visite states: Maranhão.
Outputs: Every day.
Schedules: Leisure and Adventure Tourism.
Air transport: Not included (if necessary, ask for rates to include the service in your package).
Solicite seu Orçamento/Make your queries passages: